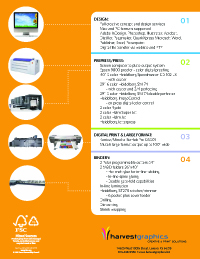 We utilize the most current technology in our industry. Our state-of-the-art equipment allows us to provide our clients with high-quality products on time and on budget
We realize that most people could care less about what model of press or copy machine we use, so long as they receive what they ordered. Still, we can't help being proud of our toys. Once you see how great they make you look, we hope you'll be proud of them, too.
Design
Printing Capabilities
Our presses run up to 6-color plus aqueous on multiple shifts, with each of our pressman working to the highest standards of production excellence. Our versatility and state-of-the-art equipment also allow us to perfect, score and perf in-line while maintaining perfect registration, consistent color and the beauty of continuous tone.
Finishing